Treatments To Consider For Low Back Pain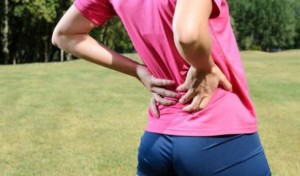 Most cases of low back pain can be caused by a variety of problems, including muscle strain or sprain, herniated disc or degenerative disc disease. Typical sources of low back pain include:
Osteoarthritis
Muscle spasm
Ruptured or herniated disk
Sciatica
Strain or tears to the muscles or ligaments supporting the back
The nerve roots in the low back, may be irritated
The bones, ligaments or joints may be damaged
Low back pain from a muscle strain is the most common and can be caused by lifting a heavy object, lifting while twisting, or a sudden movement or fall.  While pain or discomfort can happen anywhere in your back, the most common area affected is your low back.
When the muscles in the low back are strained or torn, the area around the muscles becomes inflamed.  This inflammation causes the muscles in the back to spasm and cause low back pain.
Treatment for low back pain depends upon the patient's history and the type and severity of pain. The vast majority of lower back pain cases get better within six to eight weeks.
Treating low back pain consists of a combination of treatments, such as Chiropractic, Massage, Physiotherapy, Acupuncture, Cryo/Hydro Therapy, Laser Therapy, TENS therapy, Ultrasound, eToims, Decompression Table, Graston Technique, Infrared Sauna, Shockwave Therapy, Neuro-mechanical Adjusting Tool as well as topical ointments such as Traumeel and nutritional supplements that help with inflammation.
An exercise program is necessary and essential to rehabilitate the spine, increase your range of motion and help alleviate back pain.
With the first symptoms of low back pain, stop the activity for the first few days; this allows injured tissue to begin to heal, and reduce any swelling or inflammation. You can also apply heat/ice to the painful area. Always use ice for the first 48-72 hours, then use heat.  You can also take something to help with the inflammation such as ibuprofen or nutritional supplements.