How Acupuncture Can Help with a Cold or Flu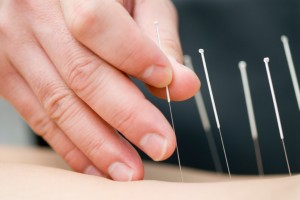 Can acupuncture help with a cold or flu?  The answer to that question is a resounding yes!
Acupuncture regulates the function of the immune system to give you a fighting chance against the common cold and flu. Acupuncture invigorates the organs of the body with fresh blood and body fluids, cleansing and helping to protect us by fortifying the body's defensive barrier against foreign invaders such as viruses that cause seasonal illness.
The common cold and flu can occur during any time of the year, but is most prevalent during the fall and winter months Typical symptoms are headache, coughing, stuffy and running nose and body aches. Cold and flu are differentiated by their symptoms and treatment.
According to TCM (Traditional Chinese Medicine), there are three types of cold: wind cold, wind heat, and damp heat.
 Wind Cold:  Strong aversion to cold, minor fever, soreness and pain in limbs, itchy throat, white and thin phlegm, runny nose, clear nasal secretion and sneezing are symptomatic of wind cold.
Wind Heat:  Radiating headache, fever, running and stuffy nose, aversion to wind, sweating, sneezing, thirst, sore and swollen throat, coughing out thick, yellow phlegm and dry mouth are typical symptoms of wind heat.
 Damp Heat:  Headache, tiredness, stuffy or pressing sensation in the chest, nausea, and poor appetite,  are normally present with a damp heat cold.
Flu:  Flu can be spread rapidly through viral or bacterial infection in upper respiratory tract and gastrointestinal system.  The symptoms appear quickly, beginning with chills, then fever followed by the feeling of "achyness". The flu can be accompanied by  symptoms of upper respiratory tract infection, including severe headache, red eyes, body aches and pain, fatigue, low energy, sinus congestion, running nose, sore and swollen throat, coughing and shortness of breath.
Prevention is the key to everything and TCM is no different. Patients will benefit much more from being treated prior to the onset of flu symptoms. However, if you start to exhibit symptoms of a cold or flu, then early intervention is the key to effective treatment. The sooner treatment is received for flu-like symptoms the faster and more effective acupuncture is.
To find out more about acupuncture and if it's right  for you,  please contact Diversified Health Clinic.
See Also