Shoe Insoles: Cushioned or Supportive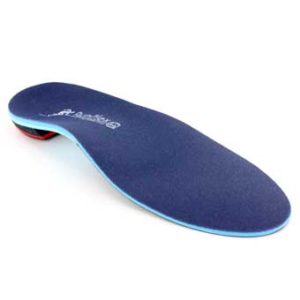 The first step when wearing shoe insoles, starts when you are shopping for shoes. You want to select a shoe, runner, or boot with a great fit and is specific to your chosen activity.
The second step is to determine if the the insole that comes with the shoe (sock liner) will be adequate or will you need to replace it with a specific type of purchase a new insole.
What is a sock liner?
A sock liner is the removable insole that sits between the foot and sole of most shoes. Though sock liners can vary in thickness and comfort, the primary function is to prevent the foot from rubbing against any stitching or materials that are used in the making of the shoe. Most sock liners that come in a new pair of shoes provide little support or cushioning.
There are two main types of shoe insoles:  cushioned – which will mold to our foot bed and supportive – which are functional.  In order to provide cushioning, the insole need to be flexible, and soft. In order to provide support, the  insole must be firm, and provide structure under the load of our body weight. (Materials can make a big impact on the size and weight of a support insole).
The need for additional support is the major reason to consider an insole. Most people need a more rigid arch support that can help hold the foot in an upright and stable position. Wearing a supportive insole can help control motion, relieve strain, and stabilize a foot that might have arch or heel pain.
Cushioned inserts are designed for people who want to reduce shock. Metatarsal pads for instance, are simply cushioned pads that fit behind the ball of your foot, distributing weight which  offloads and reduces pressure under the troublesome spot.
Foot conditions that can be helped by wearing an insole:
Achilles Tendonitis
Arch Pain
Bunions
Diabetic/Arthritic Foot
Flat Feet
Heel Spur
Over Pronation
Plantar Fasciltis
Shin Splints
Under Pronation
If your foot pain or discomfort continues or becomes worse , please talk to your healthcare practitioner to see if something more serious is going on.