Do's & Don'ts of Pain Free Gardening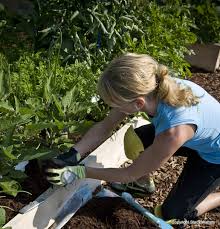 Here are some simple tips on the do's and don'ts for pain free gardening, and how massage therapy can help  with pain relief if you overdo it.

1. Warm up with light movement or a brisk walk to loosen your muscles and increase your flexibility. The smooth coordination of your muscles and ligaments is an important part of safe exertion in gardening and avoiding aches and pains. Also set modest goals for each portion of the day and assess your progress and how you feel every couple of hours.

2. Know your strengths and limitations. Do not overexert, vary your activities, and take regular rest breaks. Every hour, give yourself 5 minutes to stretch, sit down, and drink to replenish the fluids lost from your exertion.

3. Avoid bending over repeatedly while standing upright when performing ground-level work like weeding. Get closer to the task by kneeling or sitting on the ground or a gardening bench, rather than bending and twisting from the waist.
4. Keep your back protected when you stand up from a sitting or crouching position. Rise up by straightening your legs at the knees, not by lifting your torso at the waist.
5. Lift dirt and plants by letting your arms, legs and thighs carry the load: bend and straighten at the knees instead of the hack and hips. You are most vulnerable to injury when you are bending at the waist and reaching, so lift the load close to the body's torso and handle smaller, more manageable loads at a time.

6. Use long-handled tools to give you leverage and help avoid having to stoop down while raking or digging.
7. Switch hands frequently when doing prolonged raking, hoeing or digging actions. Repetitive motion on one side can bring on progressively serious joints imbalances and may produce postural mis-alignments and pain. Avoid repetitive-motion injuries by dividing up each task into sections that allow you to switch activities and posture often.

8. Don't work too long in one position, especially one that is awkward or unusual. This can reduce circulation, restrict mobility, and promote strain injuries.
If you should find yourself with painful joints and muscle because of gardening, remember that massage therapy provides significant reduction in back pain, (including lower back pain), migraine headaches, neck aches, shoulder pain, joint pain, overused or sore muscles, arthritis, and muscle injuries.
At Diversified Health our Registered Massage Therapists tailor each session to your needs from a whole body massage to a quick half hour hand massage.